Premium quality Žilavka

Medjugorje's Premium quality Zilavka attracts with its rich taste of primary varietal aroma. Thanks to the good balance of natural acids, alcohol and a small part of sugar, this wine slowly matures. It is characterized by longevity on the condition that it nurtures by an experienced connoisseur. It should be served at 11-12 ° C with dishes of freshwater and marine fish, light meat dishes, hot and cold appetizers and soups..
High quality Žilavka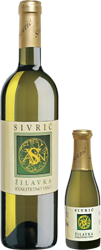 High quality white wine Zilavka is characterized by smoothness and freshness in taste. It is suitable companion of domestic cuisine and in the summer goes well with light fish dishes.
Premium quality Blatina

Basement Sivric's Blatina is characterized by a distinct elegance that gets aging in wooden barrels. Though dark and powerful wine, Blatina adorned freshness natural acids that keeps her gentle and fresh taste. Thanks to these characteristics, Blatina goes excellently with fish stew, grilled meat and lamb as well as good, not too spicy cheeses. Blatina is recommended to be served at room temperature, slightly cooled at 18 ° C in summertime and it is recommended to open the bottle an hour before serving.
High quality Blatina

–
Rosé

Herzegovinian Rose-Rosé wine made from Blatina and accompanying Muscat grape is a favorite wine for the ladies. Specific way of processing and preserving with care gives Rosé wine an exceptional primary aromas of grapes and gentle and fresh taste. This wine will contribute to the pleasant atmosphere in relaxed society. It is recommended to refrigerate it at 12-13 ° C.
Dessert wine Floria

Dessert wine Floria is family Sivric's proud and specific creations. This wine acquires its full harmony and distinctive flavor thanks to the longer maturation. Floria is served with desserts and in summer well cooled with a slice of lemon.
Loza Sivrić

–
Medjugorje herbal grappa
Medjugorje herbal grappa is an herbal aperitif made by traditional family recipes. Precious herbs and plants from Herzegovinian karst give to this grappa distinctive smell, taste and medicinal qualities..
Medjugorje grape brandy

Medjugorje grape brandy is an aperitif drink very popular in Herzegovina. It is made from Zilavka and Blatina leftovers and for next 1-2 years matures in the wooden casks. .
Travarica s medom

-.
CHERRY Sivrć

–
Orahovača

–